Vestfold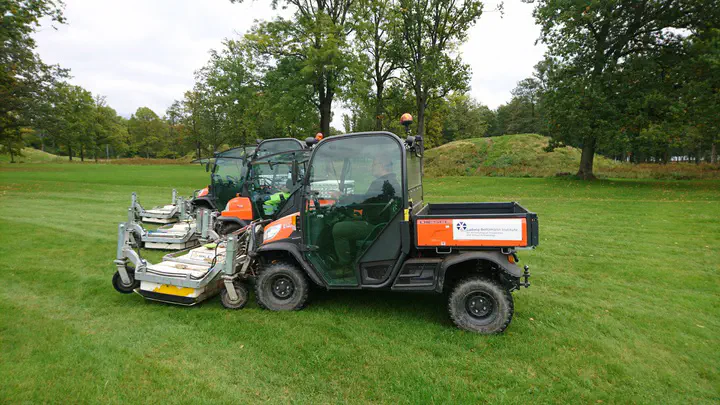 Large-scale archaeological prospection of Viking Age sites in Norway
The large-scale archaeological prospection Case Study "Vestfold" conducted by the Ludwig Boltzmann Institute for Archaeological Prospection and Virtual Archaeology (LBI ArchPro) in collaboration with its partners Norwegian Institute for Cultural Heritage Research (NIKU) and Vestfold fylkeskommune (Vfk) focuses on several Iron Age and Viking Age monuments in the region south of Oslo.
In archaeological terms Vestfold is perhaps best known for the spectacular ship burials from Oseberg and Gokstad, as well as the high-status burial mounds in Borre National Park and the Viking Age trading place at Kaupang. However, the area also lays claim to one of the highest densities of archaeological sites in Norway, spanning from the Neolithic to modern times. The developments of the LBI ArchPro provided archaeologists, researchers and developers with efficient tool for assessing the archaeology and its context, as well as developing plans for either investigating the archaeology or preserving it in situ.
During the case study, several substantial new archaeological discoveries were made. Among them is an exceptionally large cooking‐pit site which was discovered using motorized multi-channel magnetometry and GPR systems at Lunde in 2010 and which is, to date, one of the largest of its kind discovered in Scandinavia. First time large-scale GPR measurements on snow were tested at Borre National Park in early 2013. These measurements resulted in the discovery of a Viking Age hall building - high-status buildings mentioned in the Nordic sagas - and farmstead. Subsequent surveys revealed three more halls close to the prominent mound cemetery. Outstanding archaeological prospection results were also obtained in the landscape surrounding the famous Gokstad burial mound in connection with the "Gokstad Revitalised Project" of the University of Oslo, where traces of additional graves and a settlement were revealed in detail. Complementing surveys were carried out at Oseberg and Rom burial mounds.
In 2018, the LBI ArchPro and NIKU announced the discovery of a Viking ship as well as burial mounds and longhouses in Østfold County in Norway. At that time, only three well-preserved Viking ship finds were known in Norway that had been excavated long time ago. These discoveries were made using a motorized high-resolution multi-channel MALÅ Imaging Radar Array system that had been integrated by the LBI ArchPro for large-area ultra-high-resolution surveys. The LBI ArchPro team also contributed to this significant find – the so called Gjellestad ship – with their expertise in processing, interpreting and visualizing the GPR data that revealed a detailed image of the buried structure. The media response was immense; the story was covered worldwide on TV, Radio, online and printed media.
Another important aspect of the case study is to assess the suitability of geophysical prospection methods in Norwegian geological, archaeological and environmental conditions. The Borre Monitoring Project (2019-2022) - run by Vestfold County Council, NIKU and the Norwegian Institute of Bioeconomy Research - investigated how environmental factors (precipitation, soil moisture variation, soil and sediment types) affect the quality of GPR data collected for archaeological purposes.
In 2018, the permanent exhibition ("Hauger, Haller, Hav") at the Midgard Vikingsenter at Borre, was redesigned in collaboration with Vestfold County Council and 7reasons including a container showcasing the prospection methods and a magnetometer survey system of the LBI ArchPro.
Movie
Images
Selected Publications
Links