Birka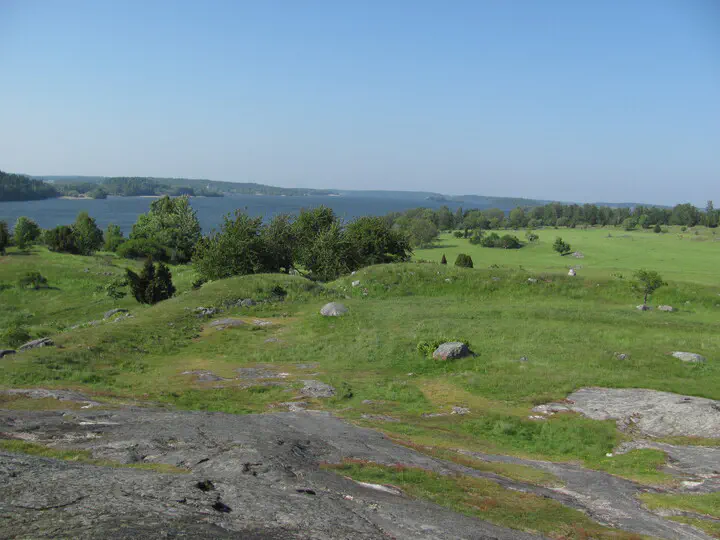 The Viking Age site of Birka-Hovgården
The Viking Age settlement and trading place Birka-Hovgården at Swedish Lake Mälaren was founded in the 8th century AD and is one of the best-preserved Scandinavian Viking Age settlements and burial places. On Björkö, Sweden's largest assembly of Iron Age burial mounds is found in the grave field Hemlanden ("Homeland"). The rulers of Birka are believed to have resided at Hovgården on nearby Adelsö.
In 2011 and 2013 the Ludwig Boltzmann Institute for Archaeological Prospection (under the direction of Prof. Wolfgang Neubauer) carried out several non-invasive archaeological prospection surveys at Birka-Hovgården. The central settlement areas as well as the fields to the south across the assumed continuation of the town rampart between Hemlanden and the hillfort and beyond were mapped with high-resolution georadar and magnetometer measurements. A high-resolution full-waveform airborne laser scanning survey was flown covering the entire island of Björkö and the southern part of Adelsö, generating a very high-resolution digital terrain model.
This large-scale study produced a seamless virtual map of the buried remains from the Viking Age. Dwellings, storeys and, workshops, roads, fortifications, and harbour constructions as well as graves and infra-structure showed up clearly in the prospection data which provided the possibility for a virtual excavation of complete settlements and landscapes within 3D computer visualisations.
"The project resulted in considerable new information about the layout, construction and development of one of the World's best preserved Viking Age central places. Instead of time and cost expensive traditional archaeological excavations the novel LBI ArchPro approach applied latest ground penetrating radar technology and highly sensitive magnetometers measuring tiny variations in the Earth magnetic field at high speed at the scale of landscapes."

Prof. Wolfgang Neubauer (director, LBI ArchPro)
In 2014, a new exhibition was opened at the Birka Museum on Björkö; the LBI ArchPro designed a dedicated area for presenting its methods, research, and fieldwork at the sites of Birka- Hovgården to the interested public. In 2021, the scientific results of the research project were featured in the ORF Universum History TV-documentary "Victims of the Vikings" (in cooperation with ZDF and ARTE).
Images
Selected Publications
Trinks, Immo; Neubauer, Wolfgang; Hinterleitner, Alois (2014): First High-resolution GPR and Magnetic Archaeological Prospection at the Viking Age Settlement of Birka in Sweden. In: Archaeol. Prospect. 21 (3), S. 185-199. DOI: 10.1002/arp.1481.

Trinks, Immo; Neubauer, Wolfgang; Nau, Erich; Gabler, Manuel; Wallner, Mario; Hinterleitner, Alois et al. (2013): Archaeological prospection of the UNESCO World Cultural Heritage site Birka-Hovgården. In: Wolfgang Neubauer, Immo Trinks und Salisbury, Roderick B., Einwögerer, Christina (Hg.): Archaeological Prospection. Proceedings of the 10th International Conference on Archaeological Prospection. Vienna, Austria, 29/05-02/06/2013. Vienna: Austrian Academy of Sciences Press, S. 39-40.
Links